On-the-go Reusable Letter Tracing
I'm always trying to find new ways to help my 3-year-old daughter increase her writing skills. Unfortunately, the activities and books are either too pricey, use too much paper (and ink, if I print it from my computer), or they are bulky. So I came up with this portable and reusable letter tracing activity using a few items I already had around the house. Now when I take her places, I have this activity ready to go. Not only does it keep her occupied while we are on-the-go, she's also working on fine tuning her writing skills. This is a great activity that is easy to make, budget friendly, and small enough to fit in your purse. Here's what you'll need to make this portable preschool activity: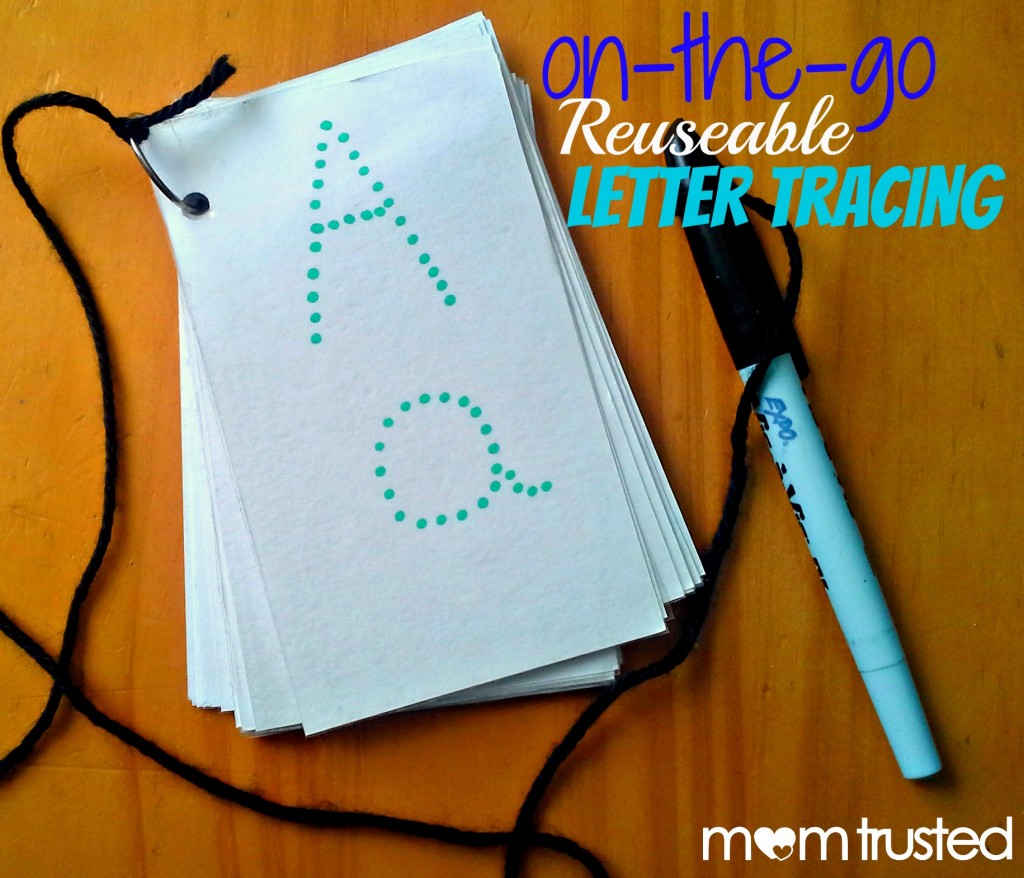 Materials:
26 Index cards
Marker(s)
Clear Contact paper
Yarn, string, or twine
Dry erase marker (I use markers for overhead projectors since they seem to wipe off of contact paper easier than dry erase markers)
Hole puncher
Scissors
Key ring (optional- I happened to have one lying around, but you could just tie the cards together with yarn)
Tape (optional- I used it to help keep the contact paper in place while I put the cards on)
Step 1: With your marker(s), make dots outlining each letter of the alphabet (upper and lower case) on each index card.
TIP: You can also do this to help your preschooler write and learn site words, numbers, or shapes.
Step 2: Cut a large piece of clear contact paper (large enough to cover all 26 cards at once). Peel the backing off the contact paper so the sticky part faces up. Then lay each card on the contact paper, letter-side facing down.
TIP: Using tape here helps to keep the paper from rolling back up and keeps it in place while you place the cards.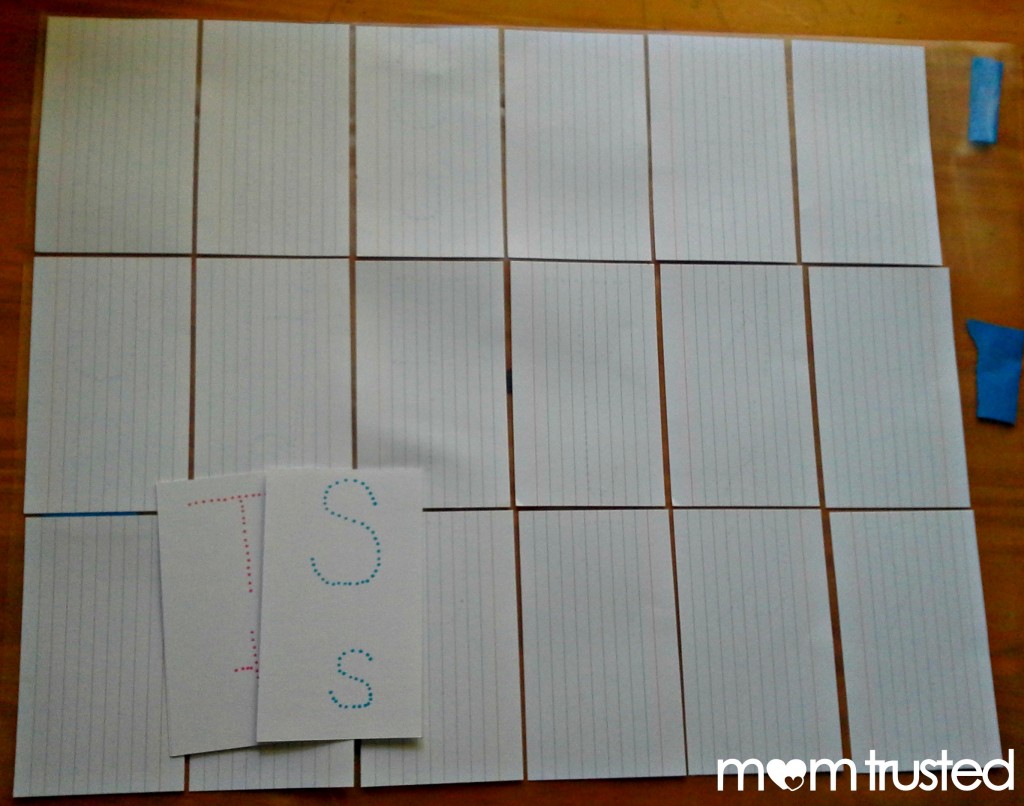 Step 3: (optional) While the cards are still laying face-down on the contact paper, cut another large sheet (or a few smaller ones, which may be easier to work with), peel the backing off, and place on top. I opted to not do this step to conserve contact paper. As long as you have the front covered, the activity works just fine.
Step 4: Cut out all the cards.
Step 5: After you have all the cards cut out, make a hole in the upper corner (or wherever you want them to all be connected) with a hole puncher. Then, put them on a key ring. You could also use the yarn, string, or twine, but make sure to leave enough slack that the cards can be flipped back and forth.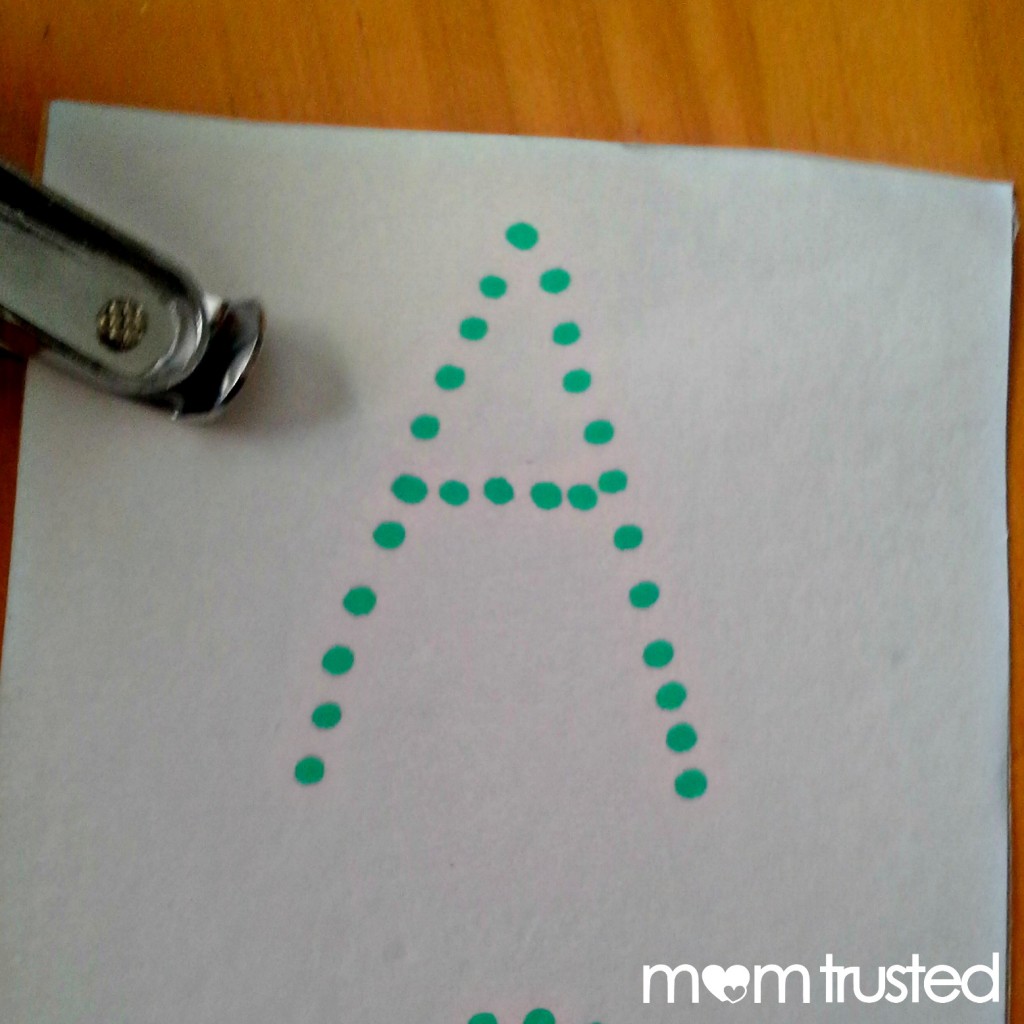 Step 6: (optional) Cut a piece of yarn, string, or twine, and tie it to the key ring. Tie the other end to the marker. Luckily, the marker had a lid with a clip, making it easier to attach the string. If your marker doesn't have a lid, try using a piece of clear tape to keep it in place. If you don't have a key ring, just tie a knot in the yarn, leaving one end long enough to attach to the marker.
Now your preschooler has a portable letter tracing activity that cost a fraction of the dry erase books and is customized to exactly what they are ready to learn next! Simply toss it in your purse or car so it's ready to go whenever your preschooler needs an activity to do while you are on-the-go! Keep a wipe or napkin handy so you can simply clean it off and reuse it. Enjoy!
---