Gift Wrap Scraps Christmas Card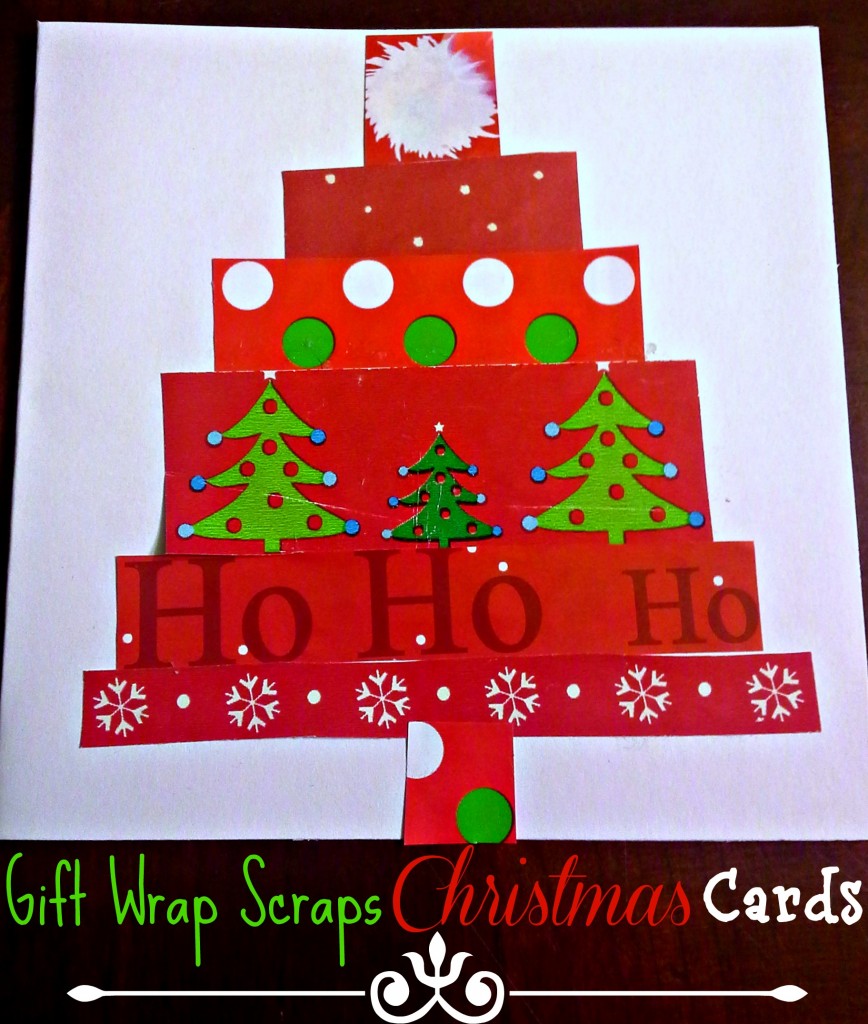 We love christmas time, everyone does. Every year I struggle to get my family members the newest and hottest gifts. That means I have to be up to date with my surroundings. There is always something for each person, I just have the job of finding it, and then the look on their face, when they open it, is just worth all the hassle. Say, if a close friend of mine has been single for a long time and is looking for some like-minded companions, I try to come up with creative gift ideas like perfumes induced with Pheromones or a premium subscription for dating apps. Similarly, a lot of the younger men and boys in my family are tech nerds, so it's always a challenge finding out what they're into and trying to find somewhere that sells it! This year I had been considering the newly evolved technology market for my Christmas presents to give them! I even considered something from https://www.drdrone.ca/! I just know they would love it and I'm feeling extra generous. There are so many awesome gadgets out there these days that the actual present giving isn't the worst bit, the wrapping is. There is always so much left over, and after christmas it seems like such a waste that all these beautiful festive scraps should go unused. So, as I mentioned in a previous post , I have made it my goal to use up the scraps and unused rolls of Christmas gift wrap doing fun, Christmas-y preschool projects with my children. When I saw this idea on Pinterest for a Christmas tree made out of scraps of gift wrap, I knew it would be a perfect way for the kids to make really cute homemade Christmas cards this year. Plus, it was another way I could use up that extra gift wrap lying around. A friend of mine used some of our wrapping paper to wrap her personalised photo jigsaw puzzle Christmas gift, and we had some wrapping paper leftover that wouldn't be used. I thought it would be perfect for this project. My son decided to make one using the tree design, but you could do any shape you want using the scraps. As an added bonus, this fun activity also gives your preschooler an opportunity to focus on his/her fine motor skills, as well as work on math skills if s/he decided to make the Christmas tree card (putting the strips in order from biggest to smallest or visa versa). You just can't lose with the creative Christmas card idea! Here's what you'll need to make these cards:
Materials:
Leftover scraps (or rolls) of gift wrap
Scissors
Glue
White paper or blank cards
Glitter/ribbon/beads/etc (optional)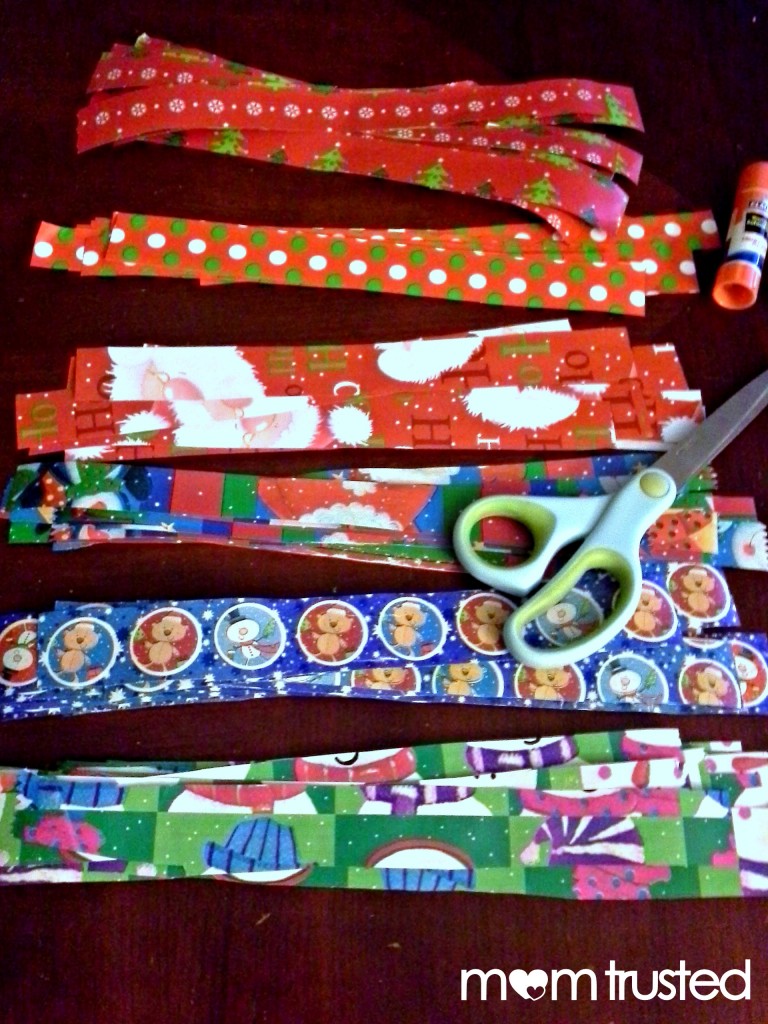 Step 1: Cut the gift wrap into different shapes, depending on what end product you or your child wants to make out of the scraps. My son liked the idea from the Pinterest link and decided to make his Christmast cards' cover have Christmas trees. He cut the gift wrapping paper into strips, varying in size.
Step 2: Now it's time for you and your preschooler to create the Christmas cards. Simply hand your little one glue and begin gluing the gift wraps scraps to the white paper or blank cards. Once dry, have your little one draw or write something inside the card. Your now ready to send your holiday cards in the mail or hand deliver them. Enjoy!
TIP: For younger children, it helps to pour a little glue into a shallow dish and use a paintbrush to apply the glue.
Allow the glue to dry thoroughly before placing it in an envelope to prevent the card from sticking to it.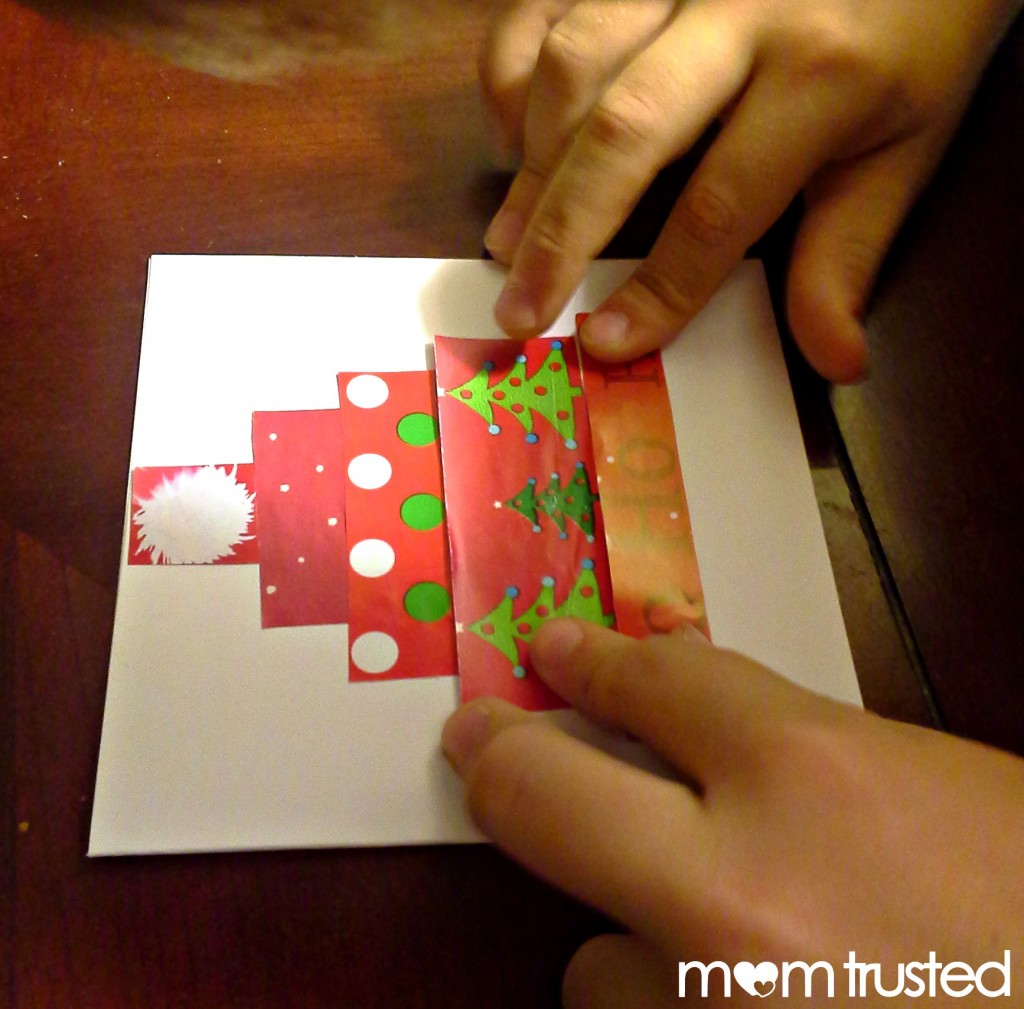 ---